I just wanted to share these with yall: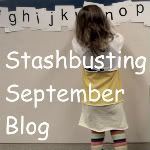 I joined the Stashbusting September Blogs Challenge! No more junkin' for crafty supplies for me! (At least for September! LOL)
You must check this out! I am glad I found someone that loves Halloween as much as I do! (I wish she had a button!) I sooo love her "pumpkin girl" named "Pretty!"
Here is something else cool! The first sewing box pic looks like a face! I love random things that just so happen to look like a face!
Check out this vintage Halloween b

ox, too!